NEW!!!!!
Paula Benton will be teaching 3 weeks of SF Animal Care and Control's Summer Camp at Live Oak School, June 23-27, June 30-July 3, July 7-11, 2014. For complete details please go to: www.liveoaksf.org.

Paula's Camp!
In each week-long summer session,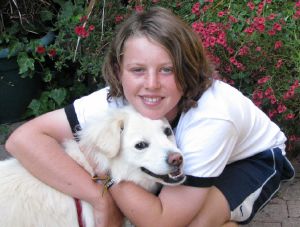 certified dog trainer and behavior coach, Paula Benton teaches kids how to positively reinforce, communicate with and motivate their pups to do basic good manner behaviors. They also master loose leash walking, as well as fun tricks to amaze and thrill friends and family members. Kids have a ball learning the art of clicker training. If camp dogs already offer these behaviors reliably, kids are taught more advanced skills building in distractions, duration, distance, improved timing and how to fade out treats.
Each kid-dog team starts the day with indoor and outdoor training sessions followed by neighborhood walks. Kids then spend some time team training and game playing with a foster dog from Grateful Dogs Rescue. After a healthy, delicious lunch – and while their dogs enjoy a supervised crated nap -- kids go on a daily field trip (transportation provided) to learn more about canine communication,
massage, grooming, agility, assistance work and scent detection. Afterwards, kids enjoy a yummy home baked snack and some goof-off time. Kids then try their hand at a sampling of Agility, K9 Nose Work, Treibball and finish the day with some doggie art projects. The end of the week concludes with a celebration of cake and certificates.
Level 1
Kids learn how to teach their dogs basic behaviors like: sit, down, wait, stay, touch, come and leave it. Kids are also taught a fun new trick daily.
Kids learn more advanced dog training skills like capturing and shaping. Dog's learn how to: go to a mat and lie down, wipe their paws off on a towel, slap a "fly" off their nose, play soccer, and turn on a light switch.
Requirement: completion of level 1
Kids learn the highly skilled art of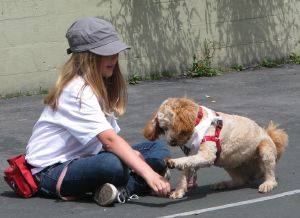 chaining multiple behaviors. This is a super fun week where the kids imaginations take off as they plan how to teach their dogs very complex sequences. Kids will also learn to train a hearing dog for an owner who is deaf or hard-of-hearing.
Requirement: completion of level 2

FEE

$425. / week (includes lunch and snacks).
2014 SESSIONS
Camp Sessions are Monday - Friday from 9 a.m - 5 p.m.
Session 1 * June 16-20
* Level 3 sorry - this week is full

Session 2 * July 7-11
* Level 1 (kids aged 9-10 years)
Session 3 * July 20-25
* Level 2 (kids aged 10 and older)
Session 4 * August 4-8
* Level 1 (kids aged 11-12 years)
Session 5 * August 11-15
* Level 1 (kids aged 13 and older)
Minimum 3 kids per session, maximum 6 kids
DAILY ITINERARY
8:30-9 a.m. Kids & dogs arrive at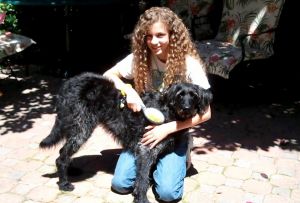 Training Wheels San Francisco
9-9:30 a.m. Announcements, Kong stuffing & dog treat preparing
9:30-10 a.m.
Canine Classroom -kids learn about communication, motivation
and positive reinforcement
10 a.m.-11 a.m. Morning dog training
11-11:30 a.m. Team training and enrichment games with GDR foster dog

11:30 a.m.-12 p.m.
Loose leash neighborhood walk
Noon – 12:30 p.m. Lunch at TWSF (provided)
12:30-1 p.m. Travel to field trip
(Kids only - dogs stay at TWSF to enjoy a stuffed Kong and supervised crate nap)
1-2 p.m. Field trip
2-2:30
Travel back to TWSF
2:30 – 3 p.m. Loose leash neighborhood walk
3-3:30 p.m. Home baked snack and goof-off time
3:30-4 p.m. Agility, K9 Nose Work, Treibball sampling
5-
5:30p.m. Kids & dogs go home
The above may change from day to day depending on the dogs, kids and weather.
If rain, we will train indoors at TWSF.
DOG REQUIREMENTS
* Dogs should be spayed/neutered a minimum of 3 weeks prior to camp
* Dogs should be up-to-date with all vaccinations, including rabies
* Dogs should be over 6 months old
* Dogs should be licensed within the city/county of residence
* Paula needs to meet and interview all dogs prior to class beginning
* Dogs should weigh an amount the child can physically manage
* Dogs should be comfortable in a TWSF provided wire crate for 2 hours
* Dogs should wear a flat buckle collar with ID, license & rabies tags
WHAT KIDS NEED TO BRING
* Hungry dog - please do not feed dogs breakfast
* Proof from your Vet of dog's DHLPP, bordetella & rabies vaccinations

* Kong or any food puzzle that will fit in a crate
* Sense-ation/Sense-ible/Easy Walk Harness (Paula can help with fitting)
* 6 ft. flat leash
* Kids need to wear/bring: sturdy closed toe shoes, hat for sun protection, long pants, rain gear and jacket - in case of bad weather
If any of these items are new to you and you want more info about them,
PLEASE give us a call.
FIELD TRIPS
Paula drives the kids to and from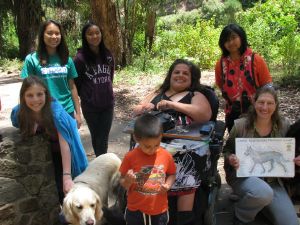 the field trips.
Most of these are still pending scheduling.
Here is what we are working on:
* Disc Dog Demo - with Megan Smith
* Assistance Dog Demo – with

Elyse Wesendunk & Kate
* Canine Massage – with Nicole

Masters
* Health & First Aid – with Shaelyn St. Onge-Cole, RVT
* Grooming - with Suzy Charles at Shear Woof

WHAT IS K9 NOSE WORK?
This is a brand new dog sport that is sweeping the country!
It was created by 3 dog scent/bomb detection experts in LA as a fun way for the average dog to do what they do best – SMELL & SEEK!
Any dog and any handler can participate and it is a LOT of fun!
This is an even newer dog sport that comes from Germany! Treibball is what is referred to as "urban herding". Dogs push 8 large pilates-type balls into a goal post, one at a time. Some call this new sport "rolling sheep"!
ART PROJECTS
Paula use to own a small art school in Noe Valley called Artery and she has oodles of fun projects for the kids to do.
Project
ideas include: creating tug toys, baking treats, decorating collars, making leash holders and personalized frames for your favorite pooch pose.
CELEBRATION

Friday at 5:15 p.m. family and friends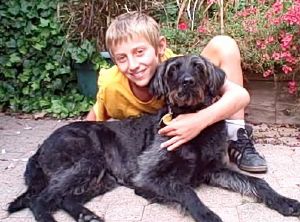 are invited to share some cake and lemonade as a fun way to end and celebrate the week.
HAPPY PLANET
TWSF is solar powered. Kids are transported to and from field trips in a hybrid Ford Escape. We reuse, recycle and compost. And we provide vegetarian lunch options daily.
LIABILITY WAIVER
Campers' guardians will be asked to sign the following:
As the parent/guardian of ________________________ I hereby acknowledge that I am choosing to allow him/her to work with and around untrained dogs, understanding that Training Wheels San Francisco/Paula Benton and its agents will take all reasonable precautions to insure the safety and health of my child and my dog attending dog training summer camp. Recognizing the inherent risks in dog training, I will not hold Training Wheels San Francisco/Paula Benton, its agents, instructors and representatives responsible should an accident, injury, expense, costs or damages occur to myself, my child or my dog prior to, during or following the summer camp session. I also recognize that dog training requires a certain amount of physical activity and that I have voluntarily chosen to allow my child and my dog to participate in this activity.
INSURED
Training Wheels San Francisco is insured by
Business Insurers of the Carolinas
TWSF LOCATION
Training Wheels San Francisco is located in Noe Valley.
Please call Paula at 415-525-9528 for the exact location.